LOVE 5 ASIDE … LOVE FUTSAL
Here's your chance to play the fastest growing indoor sport on the planet in structured competitive leagues managed by experienced @Futsal people. Play in affiliated or branded leagues any night of the week to suit your busy lifestyle. Because we play indoors and we aim to get you into divisions of similar standards, then you are going to have a guaranteed game experience every week.
JOIN A LEAGUE NOW
The @Futsal League Experience
FEATURES
• Competitive league and match day prices
• Trophies, medals, cash and other great prizes
• On-line league and team management
• FA affiliated or branded league nights
• FA Futsal qualified referees
• Hi-tech sports flooring system used by FIFA in Futsal World Cup
• State of the art facilities featuring cafe/bar, spectator seating, music and video while you play
• Free entry, lots of parking, changing zones and more…
• Balls and bibs provided
• Managed FIFA RESPECT initiative
• Weekly confirmation calls, emails and texts to your team
• Captains Shout – your team organisor's special offers pack
• Feeder leagues to national FA competitions such as FA Fives, FA Cup Futsal, National FA Futsal Leagues
• Twitter, Facebook and Futsal TV links for match reports and blogs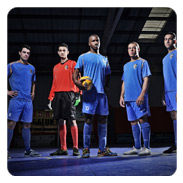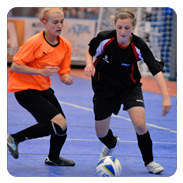 JOIN A LEAGUE NOW
Ready to play? Then join a league online now by clicking the booking button below.
We also provide a great discounted taster league game experience. Contact us to enquire about this.
JOIN A LEAGUE NOW